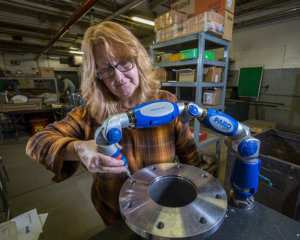 Metallurgical lab where all of our quality control equipment is housed.
Each tool is inspected prior to issue onto injection floor, thereby ensuring compliance with customer's specifications.
We provide first piece wax inspection as well as final inspections to ensure that all pieces are conforming to the customer's specifications.
Accurate physical and chemical testing (Non-destructive testing) performed:

Spectrographic analysis
Photomicrograph analysis
Ultrasonic testing
Fluorescent Zyglo
X-Ray Services
Analysical processes such as statistical process control and inspection.
Mechanical and Physical testing equipment
Corrosion Testing
Mechanical Testing – tensile, charpy impact, hardness testing.

Radiographic, ultrasonic, and Magnetic Particle inspection are performed at local professional laboratories.
Process Control of Waxes and Slurries
FARO-gauge – mechanical measuring and inspection device used for layout.