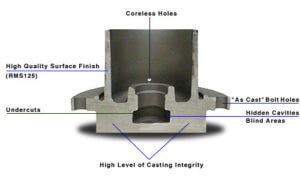 Investment Castings
The investment casting process offers many benefits including cost savings, design freedom, close tolerances, better finishes, savings in machining time, reproducibility, and assembly savings.
Low initial tooling costs: Initial tooling costs averaged over the parts produced are often less than other manufacturing tooling costs.
Elimination of material waste: Investment castings are essentially cast to size, thus decreasing the amount of machining required.
Design flexibility and capability: Infinite choice of alloys and design flexibility for internal and external configurations is seen as a plus.
Design enhancements: There are no draft requirements in the investment casting process.
Consistency: The process gives a reliable and consistent product order to order.
Close Tolerances: Consistently producing close tolerances over other processes, is seen as an advantage.
Surface Finish Improvement: A surface finish of about 125 RMS is common for an investment casting.
If you need a single piece component to reduce assembly and reassembly time, if you want to eliminate the cost of fabrication and reduce the use of welding, or if you wish to use a casting to reduce machining time, an investment casting would be a wise decision affecting your bottom line profits.
Post Precision Castings, Inc. Provides A Competitive Edge To Customers
The careful and constant planning of facility growth and acquisition of state of the art equipment has positioned Post Precision Castings, Inc. to best serve our customer's many needs. Our modern, well maintained 125,000 square foot plant facility includes a high degree of automation, computerization, and support systems that result in a greater than 95 percent on-time delivery rate. We regularly produce high volume orders (1,000+ pieces weekly) through single piece orders.
Successfully meeting the customer's investment casting needs means controlling the production process from building the tool, manufacturing the castings, and machining the castings in one facility. For more than 30 years we have been building, altering, and maintaining a significant percentage of tools in our tooling department. This advantage eliminates the lack of control problems and higher costs stemming from only subcontracting tooling. We can machine castings for customers that want on-time delivery of castings ready for immediate assembly without concern for casting defects identified during customer's expensive machining operations.
Our total commitment to quality and constant improvement are evidenced through close order process comparison to prescribed requirements through equipment such as spectrographic analysis, photomicrographic analysis, fluorescent zyglo, x-ray service, or analytical processes such as statistical process control and inspection.
Our know-how and talent is readily made available to present and potential customers.  Our experienced personnel are available for customer consultation in the areas of tooling and metallurgy.  These people are available to anticipate and minimize production problems and assure that your needs are properly met through investment castings.
We are recognized throughout the industry for the personalized attention we give our customers.  We fully understand that the dependability of our service is just as important as our manufacturing procedures.  It is equally important that our customers have found us to be just as readily available to serve them after an order has been received as we were in the placement of an order.
Market Applications
Post Precision Castings, Inc. provides high-quality investment castings in 100 alloy steel compositions including stainless, alloy steels, superalloys, copper nickel alloys, gray iron, bronze, and numerous corrosion resistant alloy steels. These investment castings may be used in a wide variety of applications. Our technical staff is very capable of assisting you with your alloy choice and design requirements. Since our operation began, we have grown to be a leading foundry in the manufacture of investment cast valve and pump parts.
Pharmaceutical Process
Petro-Chemical Processing
Pulp and Paper Processing
Chemical Processing
Food and Beverage Processing
Printing Press Equipment

Textile Machinery
Construction Machining and Tools
Pneumatic Fasteners
Medical Equipment
Material Handling Equipment
Fluid Handling
Sealing
Tooling and Machining Capabilities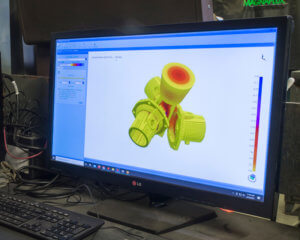 We at Post Precision Castings, Inc. incorporate state of the art technologies and draw on the expertise of our experienced craftsmen to provide a value added product to our customers.
Post Precision is not only able to manufacture the injection molds needed in pattern making but also has the capability of providing castings finish machined to the customer's blueprints in the entire range of alloys available. The use of Computer-Aided-Manufacturing (CAM) capabilities to read data files and generate complex molds efficiently assists in providing accurate, low cost injection molds. Assisting further in mold making is the latest in technology an Electrical Discharge Machine (EDM).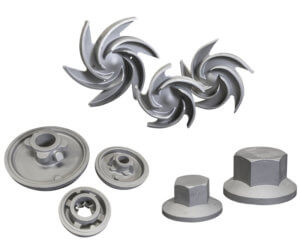 For a customer's added convenience, Post Precision Castings, Inc. provides electronic drawing file transfer using many of the commercial file formats such as: IGES and DXF. Whether drawings are forwarded to us using our FTP site or E-mail, precious time is saved by using these current technologies.
Post Precision Castings, Inc. is a full-service foundry. From mold-making to providing a machined casting, we have the capabilities to provide for our customer's needs.